How to teach nature in an interesting way, how to encourage children to watch and explore it? One option is classes with birds. We hope that the education offers, ideas and information presented here will help and inspire your work. Our offer is the education programme "Przyroda wokół nas – Ptaki" (Nature around us – Birds).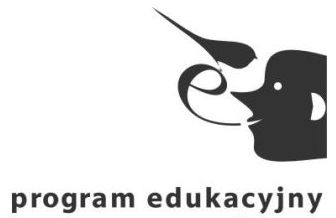 Schools and other education units are welcome to participate. We offer a free set of teaching materials that will come in useful when creating attractive classes on birds: the diversity of their species, habitats used by them and problems of their conservation.
A perfect supplement of the programme are yearly actions and regular events Spring Alive, EuroBirdwatch and Winter Birdwatch.
---

We launched an education internet portal for children and youth, www.otopjunior.org.pl . We hope that OTOPJunior will be an attractive site, visited by pupils, nature education teachers and instructors alike.
---
Plaes contact us:

Hanna Rachwald
e-mail: hanna.rachwald(at)otop.org.pl
Pomorskie Biuro OTOP, ul. Lipowa 4, 84-230 Rumia
tel./fax: +48 58 341 26 93
---
Partner of the project: