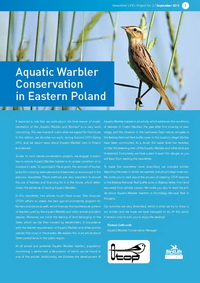 Aquatic Warbler Conservation in Eastern Poland.
Newsletter of the EU LIFE+ project "Aquatic Warbler and Biomass".
No 2 / September 2012
English version / Polish version (2.0 MB)
The launch of the future agri-environmental scheme debate. Marek Jobda
Purchase of high-nature value land: The Key to the Successful Environmental Protection. Łukasz Mucha
LIFE+ conservation actions continued by local farmers. Jarosław Krogulec
Restoring Habitats in Biebrza Valley. Piotr Marczakiewicz
Chełm Calcareous Marshes first year after mowing. Jarosław Krogulec
The ownership structure of land. Mikołaj Pruszyński
Water Management: for people and nature – Zajki Case. Berenika Dąbrowska
Aquatic Warbler count 2011. Magdalena Zadrąg
Aquatic Warbler in Hungary. Zsolt Végvári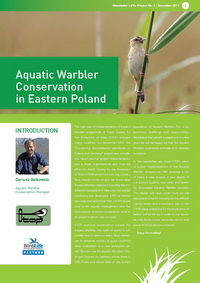 Aquatic Warbler Conservation in Eastern Poland.
Newsletter of the EU LIFE+ project "Aquatic Warbler and Biomass".
No 1 / December 2011
English version / Polish version (2.6 MB)
Biomass use for Aquatic Warblers.The next step in Aquatic Warbler, fen mires and peat meadows conservation. Dariusz Gatkowski
LIFE+ actions in Lublin Region. Jarosław Krogulec
Short history of ratrak in swamps. Łukasz Mucha
New sites of Aquatic Warbler in Lublin Province. Jarosław Krogulec
Permanent monitoring pots. Wiktor Kotowski
Polish Aquatic Warbler Species Action Plan. Magdalena Zadrąg
New Aquatic Warbler monitoring scheme in Poland. Magdalena Zadrąg
GDEP comments on the project. Patrycja Stawiarz
1st "Ratrak" meeting in Biebrza National Park. Berenika Dąbrowska
The new field-base of OTOP. Berenika Dąbrowska
ACROLA. Joanna Dziarska-Pałac
Our stands on the Biebrza. Berenika Dąbrowska
French holidays with Aquatic Warbler. Magdalena Zadrąg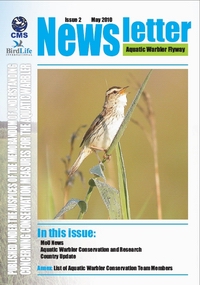 Aquatic Warblers Flyway.
Newsletter under the auspices of the MoU.
No 2 / May 2010
English version (6.4 MB)
MoU List of Signatory States
The Second Meeting of Signatory States
Update to the International Species Action Plan
AWCT website updated
How rare is the AW?
Discovery of the AW wintering grounds
AW breeding habitat management
Biomass utilisation from wet peatlands in Belarus
The French Life Project "Conservation of the AW in Brittany"
EU LIFE project on AW in Poland and Germany catalyses change
Country Update (Belarus, Belgium, Bulgaria, France, Germany, Hungary, Latvia, Lithuania, Poland, Portugal, Russia, Senegal, Spain, Ukraine, United Kingdom)
BirdLife Aquatic Warbler Conservation Team member-list (2010)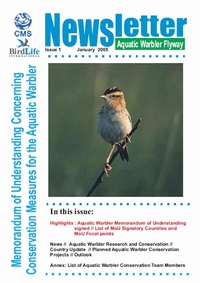 Aquatic Warblers Flyway.
Newsletter under the auspices of the MoU.
No 1 / January 2005
English version (2.3 MB)
Aquatic Warbler MoU Signed
What does It Meat to Have Signed the MoU
List of Signatory States
Dr. Alexander Kozulin receives prestigious Marsh Award
International AW Conservation officer appointed
Aquatic Warbler website launched
DNA and Feather Sampling of the Hungarian AW Population
Siberian Population of the AW Maybe Going Extinct
Using Stable Isotopes to Find Out AW Wintering Grounds
Country Update: Belarus, Ukraine, Poland
MoU Implementation Reporting and the First Meeting of the Range States
Mou National Contact Point Nomination
BirdLife Aquatic Warbler Conservation Team member-list (2004)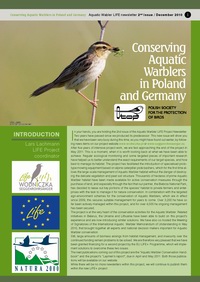 Conserving Aquatic Warblers in Poland and Germany.
Newsletter of the EU LIFE Nature project.
No 2 / December 2010
English version (2.0 MB)
Full country Aquatic Wabler count in Poland 2009. Maniakowski M.
Aquatic Wabler Agri-environmental schemes Programme and active protection of Aquatic Wabler habitats on islands in Wolin National Park. Dylawerski M.
Agri-environmental schemes Bird Package saves the Aquatic Warbler. Jobda M., Marczakiewicz P., Lachmann L.
Great project, great people. Wiśniewska A., Piasecka M.
The final conference of the EU Aquatic Warbler LIFE project and the second CMS Meeting. Szałański P.
Best Habitat fieldwork finished! Nowogrodzka A.
Production of the film about Aquatic Warbler Conservation finished. Szałański P.
Polish MoE sets up own national secretariat to service the CMS Aquatic Wabler MoU. Zadrąg M.
A landscape-scale solution for the management of Aquatic Warbler habitat. Lachmann L., Marczakiewicz P.
A new project to build on the achievements of the Aquatic Warbler LIFE Project. Lachmann L.
New projects to ensure follow-up of project at Peene Valley. Tanneberger F.
Progress on the identification of the Aquatic Warbler wintering sites. Flade M., Salewski V.
Start of vegetation management at Aquatic Wabler breeding site in Belarus. Malashevich U., Wichtmann W.
The threat to Aquatic Warbler at the Pripyat River. Poluda A.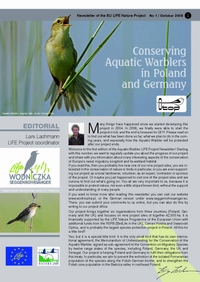 Conserving Aquatic Warblers in Poland and Germany.
Newsletter of the EU LIFE Nature project.
No 1 / October 2008
English version (3.9 MB)
How rare is the Aquatic Warbler. Lachmann L., Flade F.
Monitoring system in the LIFE project. Kloskowski J.
The AW LIFE project Technical Task Force. Welsh G.
AW Numbers in Pomerania. Tanneberger F.
AW counts in Biebrza Valley. Marczakiewicz P.
Discovery of the AW wintering grounds. Madge G., Szalanski P.
Looking beyond the project: Saving Germany's last Aquatic Warblers. Tanneberger F.
Record mowing in Biebrza Valley. Marczakiewicz P.
Big Return to Zajecze Legi. Jablonski P.
"The Bird Package" – big chance for Aquatic Warblers. Jobda M.
Developing Management Plans. Radziszewski M.
Gathering data for an "Optimal Habitat Model" for the AW in Eastern Poland. Barisch S., Griffault F.
AW in the Ujscie Warty National Park. Bartoszewicz M.
Helping birds and buisiness. Lachmann L.
Why land purchase can help the AW. Lachmann L.
Burning as alternative habitat management tool? Lachmann L.
Everyone is searching for AW! Training workshops for agri-environmental advisors. Jobda M.
Best Practice Workshops. Radziszewski M.
Project at Karsiborska Kepa. Jablonski P.